Creativity supports Reflective Practice
Because sign language interpreters are excellent visual thinkers, I like to use creative ways of working during supervision.
After writing a thesis on reflective practice, (Right versus Right: Sign Language Interpreters' Ethical Decision-Making Processes - A Diary Study, October 2015) for EUMASLI, I felt drawn to the challenge of working with inner landscapes of sign language interpreters. The aim of my research during EUMASLI was to find out how interpreters describe their ethical decision-making processes in their own daily practice. Ten (10) sign language interpreters from the Netherlands recorded written diary entries immediately after five of their assignments. After receiving direct training on the dialogic work analysis, proposed by Dean and Pollard (2013), they again recorded written diary entries for five interpreting assignments. To analyse all the reflective work, carried out by these interpreters, was a huge effort that occupied me for much of the summer of 2019. Despite the mountain of work, the insights received by reading and analysing 100 diary entries were exciting. The inner world of the sign language interpreters was asked for because they had to focus on moment-to-moment decisions , reflection-on-action (Schön, 1983/2013) rather than on 'huge dilemmas'. For the training day, all participating interpreters were asked to bring an object that symbolised their participation in this research project. At the beginning of the day every individual explained her symbol and why she had agreed to participate in this study.
One interpreter brought a little hand-shaped mirror:
"In the beginning I thought I wouldn't manage to reflect on my own practice, but because the diaries were actually questions that guided my thinking, I enjoyed participation more than I thought in the beginning."
Someone else showed the camera function of her i-phone:
"Before entering a setting as an interpreter, I use the selfie possibility on my phone as a mirror, to check if I look right without anything between my teeth, for example. Participating in this project is quite a confrontation with myself. A good way of self-reflection as a professional. I am very excited with and thankful for this new input."
One participant brought a coloured hat and a blank piece of paper:
"Participating in this research adventure is a colourful experience to me, which I really enjoy. I also feel that this is just the start of something new and that I am at the beginning of a new chapter in my career."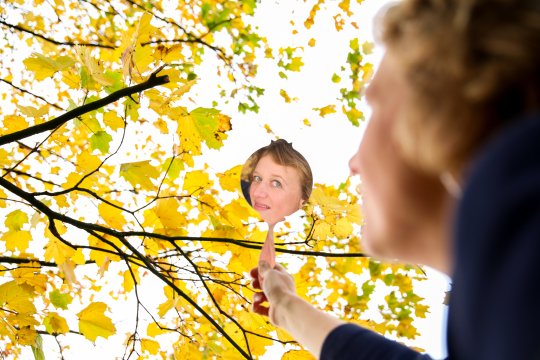 Curiosity. Excitement. Eagerness to learn new things. Courage to look one step further. Being ready for a meaningful journey. In my opinion all these characteristics describe what reflective practice starts with. Fascinated by the 'harvest' of my EUMASLI research-project, I decided to take a diploma course in professional supervision (diploma in 2019). I wanted to devote more of my time to exploring the intrapersonal demands, challenges and emotions of my interpreter colleagues in order to encourage them to strengthen and equip themselves as professional instruments.
In the Netherlands, professional supervision is new to the field of sign language interpreters. SLI's can join a peer support group if they wish, to discuss complexities of assignments, challenges and emotions they face in everyday practice. On the other hand, supervision as a process, gives the interpreter the opportunity to not only discuss and talk about the observed issues, but also to experience the vulnerable moments again in a safe and restricted environment. In the past years, my experience as a supervisee was that my supervisor invited me to go a lot deeper than I was used to in peer support groups with other interpreters. Together with my supervisor I travelled along a variety of aspects of my inner world and we explored the meaning of the different details. At first, the supervisor guided me, whereas during the process I took on more and more responsibility myself for what I wanted to explore and why.
Because sign language interpreters are excellent visual thinkers and I am convinced that learning could involve trying something new, I like to use creative ways of working during supervision. Language has its constraints and is bound by rules, but creativity is not subject to these limitations. Utilising creativity - if it suits and supports the person's learning process of course - opens up the imagination process and paves the way to experiment. During the process of creativity in supervision, unexpected treasures can be found by the supervisee. 'Unexpected treasures' may be: new meaning given to a moment back in time; a different perspective on a certain interaction with a person; or taking a closer look at a symbol, for example. To be willing to not know what the next step in the process is, is key to creativity.

During one of my supervision sessions, an interpreter shared an internal dialogue. It seemed that two persons were talking inside her, having different opinions. When I asked her what the names of those persons were, she called them 'yellow' and 'blue'. Putting a yellow and a blue paper on the ground, I asked her to again tell her story, but now whilst standing on the different pieces of paper. The interpreter surprised herself by giving words to her story from the perspective of 'yellow' while standing on the yellow paper and almost automatically stepping onto the blue paper when she changed her perspective. Throughout the process we discovered that both 'yellow' and 'blue' would benefit by having a mediator, a more moderate person in between. The supervisee called this person 'green'. I handed a green piece of paper to the supervisee and invited her to place 'green' where she would like that person to be. After positioning 'green' she stepped on the paper and her whole body posture changed while she shared 'green's' perspective. Reflecting on her role-play of the 'inner meeting' afterwards, she herself noticed that she felt a kind of relief when 'green' was present in the conversation. She could -afterwards- describe the difference in what she felt in her body while standing on the yellow, blue and green paper. Her body and cognition were cooperating through creativity and brought her new insights. As a supervisor I feel thankful to have assisted in unpacking the 'colourful dialogue' that was already present inside an interpreter.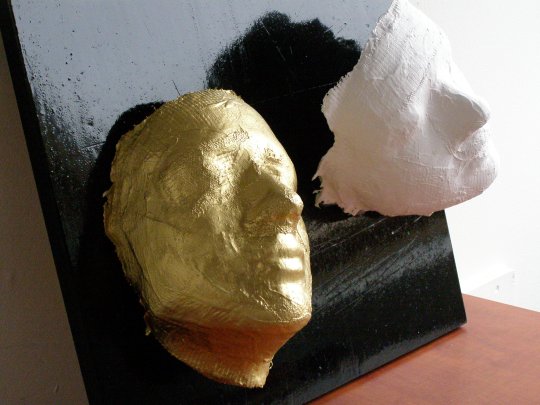 Dr. Jules Dickinson wrote in her blog about participants creating a mask to represent their feelings when they felt ashamed. She used creativity as an encouraging way for people to indirectly share their feelings, via the mask. "A paper plate formed the base of the mask and participants then used a range of materials (pipe cleaners, glitter, coloured pens, tinsel etc.) to create their 'shame face'. This process allowed them to be playful, but at the same time created a powerful and serious representation of their shame experience."
For me the beauty of being playful and creative is in the indirectness, i.e. sharing a story via material, and in creating a 'new dimension' together with the supervisee, to serious issues. I agree with Dickinson that creative play or creativity in general "shouldn't be foisted upon them, and must not be used randomly, without regard as to its appropriateness. Supervisees can feel exposed and vulnerable by the process of representing their scenario visually, or by acting it out. It is therefore crucial that creative play takes place in a safe environment, and within agreed boundaries." Utilising creativity may never be a goal in itself in my opinion. The dynamic of the new creative dimension can only be valued when everyone present agrees on using imagination as a means to grow in the art of being a reflective practitioner.